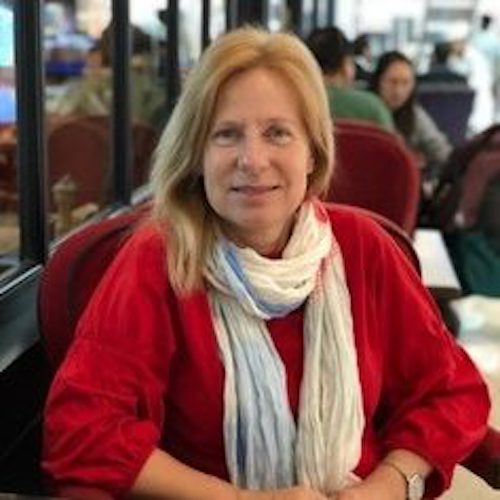 Name: Gabriela Elfriede BERGER
Voice: Lyric Soprano
Country: Austrian/Australian
When you joined QCC: November 2017.
Date of birth:
Instrument(s) you can play: Piano, Flute
Singing/Music background: 
Studied piano, flute and voice due to my lifelong interest in music and performance arts. As a child I loved training in classical ballet and I loved music above all, in any form, but mostly classical. Wolferl (Mozart) and his sister Nannerl were an early inspiration and I studies their life and works. If you asked me about who I would like as dinner guests they would have to be musicians and writers.
Many years of vocal training most recently with Giorgio Martin who has assessed my operatic vocal qualities and I continue to work with him throughout 2020.
Member of the Regional Queensland Opera Choir, Australia, since 2008. Early training with the soprano Catarina Antony, who learned her craft from sister Mary Leo in New Zealand, where Dame Kiri Te Kanawa also started her training. Vocal training with renown classical base Arthur Johnson, specialist of German Lieder and song cycles, and conoisseur of the German opera/operetta. Participated in the Queensland opera chorus for a number of stage productions including "Die Fledermaus" and "The Barber of Seville".
Member of the Toowoomba Concert Band as second flute/first flute since 2012 and concerts are usually monthly with a wide repertoire that ranges from classical, to popular show tunes and songs, jazz, marches, church services, outdoor concerts and Easter and Christmas events. I also studied the piano for many years to be able to play popular classical tunes at intermediate level. Also sang with the band whenever required and did solo performances. We also have the "Magic Flute Trio" where we perform at small events and venues, usually I play with my triplet daughters as two of them are themselves accomplished flautists.
Music competitions: I participate in classical music competitions regularly – the most recent competition I entered was the Beethoven 100. Beethoven's 5th piano concerto in E flat major, the "Emperor" is one of my most loved musical adventures.
Profession/Employment/Activity: Medical educator/medical anthropologist, PhD in women's cross-cultural health experiences, currently managing Sidra' Medicine's medical education and accreditation portfolio for the clinical workforce (+3000 clincians). Published widely (Menopause and Culture, Pluto Press) in refereed public health journals. Internship at the World Health Organization, Manila, The Philippines.
Hobbies: Health, sports (mountain climbing, running half-marathons, swimming, skiing, pilates, rowing, ice skating, bush walking, riding, tennis, table tennis etc), travel, Mediterranean food, books (literary fiction, crime – see extensive profile on goodreads, movies, classial concerts, gardening and landscape design, interior design and the environment.Would love to start a book group in Qatar and have been part of many book groups previously, enjoyed meeting writers from all over the world at the Brisbane Writers' Festival each year. Regular subscriptions to concerts and plays, and regular trips to many overseas destinations each year. I amuse myself with playing a number of different flutes (crystal flutes) and the alto recorder, and also have a brand new accordeon. In terms of gardening I love permaculture and making an organic vegetable patch, I love to see things grow.
Hobby coming up shortly: bell ringing. Just before I left Australia to take up my job in Doha I went to a class for bell ringing and as soon as I return I aim to become an honorary bell ringer – it is quite complicated as the various bells are pulled on long strings and where various patterns are played for different occasions, it does take time to train to become perfect.
Vodcasts: as a keen crime reader I have been asked to participate in regular podcast when I review literary crime novels. New vodcasts coming up shortly (FastFiction podcasts).
Currently writing a book on diet and health – since 2017 but still not finished. I promise to make more progress during the pandemic.