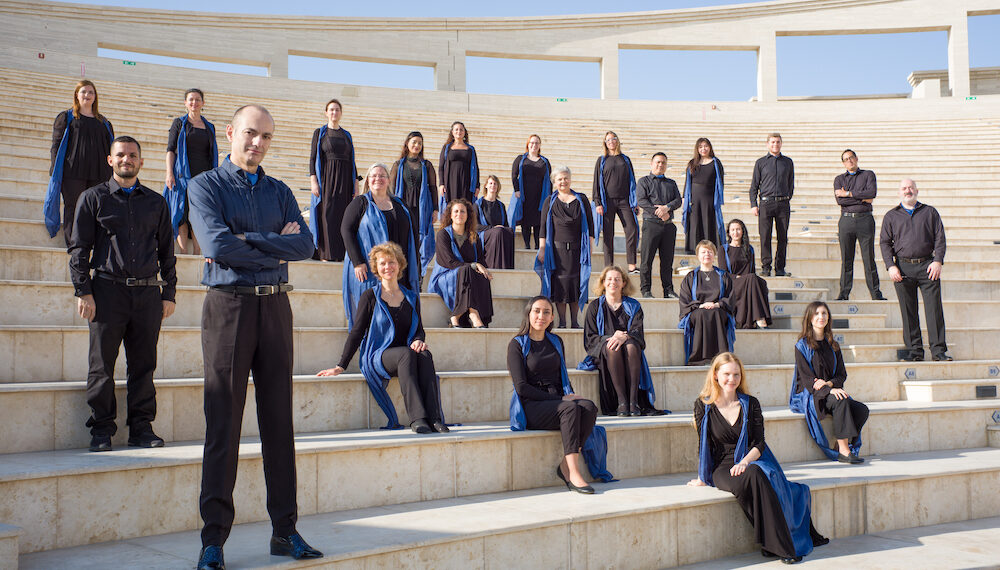 Starting as a small ad hoc ensemble of a dozen or so Baroque choral enthusiasts in 2011, today's incarnation of the Qatar Concert Choir numbers over fifty rigorously auditioned singers from thirty- two countries, who uphold an extremely high-standard of excellence in each project they undertake. Under the baton of Giovanni Pasini since 2014, much of the choir's growth has been achieved through his leadership and vision. Today, Qatar Concert Choir is the country's leading adult choral ensemble and maintains a busy performance schedule.
The Qatar Concert Choir performs a diverse range of music from the challenging end of the choral spectrum. In recent years, well known choral works by composers such as Bach, Handel, Vivaldi, Mozart, Beethoven, Holst and Whitacre have all featured in their programmes; however, the range of their repertoire goes far beyond the traditional choral oeuvre. The Choir's versatility allows for performances of opera choruses one week and concerts of Anime music the next. Keeping the music diverse keeps rehearsals exciting and means there is always the challenge of something new for this motivated group of musicians.
Much of the Qatar Concert Choir's success can be credited to the efforts of their Conductor and Artistic Director, Giovanni Pasini and their Patron, world renowned soprano Felicitas Fuchs. Pasini is the principal viola of the Qatar Philharmonic Orchestra, having held the same position in a number of accomplished orchestras around the world before joining the QPO in 2014. While viola is his first love, conducting has long been a passion. His dedication to music and the arts is inspirational and infectious, and he is undeniably an asset to the musical life of this community.
With the release of their single "Vivaldi's Winter in Qatar", available on YouTube, Spotify and Apple Music, the Qatar Concert Choir produced the first ever classical choral music video to be entirely recorded, filmed, and edited in the Gulf region. And of course, in honour of our shared home here in Qatar, the Choir regularly performs a repertoire of traditional and contemporary music from the Arab world.
In 2018, Qatar Concert Choir was invited to Malaga, Spain to perform Beethoven's 9th Symphony as part of a project conceived by Maestro George Phelivanian. This season will close with the Qatar Concert Choir traveling to New Zealand to represent Qatar and take part in the 12th World Symposium on Choral Music.
Going forward, Qatar Concert Choir is helping to set the standard for choral singing here in Qatar and across the Arab world, and is seeking to link this region's singing culture with the broader international choral community. The Qatar Concert Choir is a founding member of both the Arab Choral Network and Sing Qatar. The mandate of these two non for profit institutions is to foster and promote choral singing here at home and throughout the region, particularly drawing on the wealth of local and regional singing traditions.
Sing with us
Qatar Concert Choir always welcomes new singers. If you're interested in joining us, please contact the Secretary at info@qatarconcertchoir.com to arrange an audition.
Book us
Qatar Concert Choir is also available for hire for receptions, social occasions and corporate events. It has a wide repertoire – from western classical to musicals, from opera to Middle Eastern and world music.