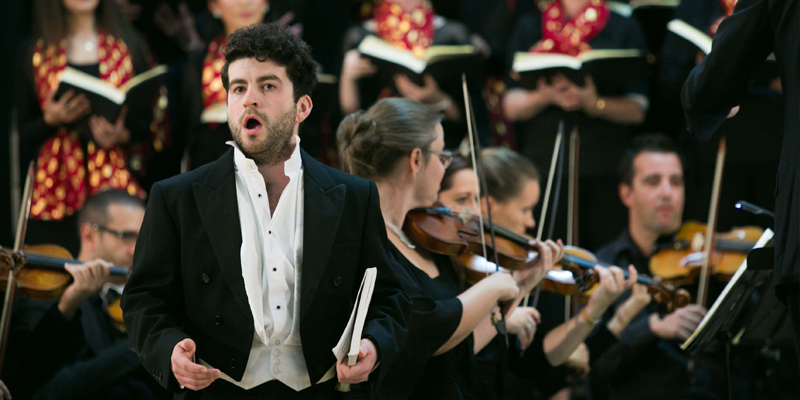 Qatar Concert Choir is Qatar's leading Choral Ensemble. It is an audition, not-for-profit choir that performs a challenging choral repertoire and produces professional calibre performances. Under the baton of Giovanni Pasini, Qatar Concert Choir regularly shares the stage with professional instrumentalists from the Qatar Philharmonic Orchestra, Cinemoon Ensemble, and the Doha Baroque Ensemble (the latter two members of the Qatar Philharmonic), and professional vocal soloists including Felicitas Fuchs, Stefanie Iranyi, Clint van der Linde and Benjamin Williamson. QCC has fast become the principal choir of its kind, not only in Qatar, but in the Gulf region as a whole.
Whilst Qatar has a relatively young choral tradition, its prodigious economic and population growth over the past two decades has mirrored an equally impressive rise in the arts broadly and in choral singing in particular. Initially founded as the Doha Bach Choir, the Qatar Concert Choir was established in 2011 with a handful of singers who wished to promote Baroque choral music within Qatar. Since this time the choir has expanded both its membership and stylistic range. More than forty voices strong, the repertoire now includes everything from Bach and Handel to the Video Games Live franchise and Whitacre. The choir's ongoing partnership with local Qatari composer Dana Al Fardan, has seen collaboration in both live performances and the recording studio. In 2018 QCC accepted a prestigious week long invitation to perform Beethoven's 9th in Malaga, Spain with renowned Maestro George Pehlivanian and act as guest choir for a conducting workshop he held for his senior students.
Today Qatar Concert Choir continues to grow and refine. With concerts and recordings already scheduled well into 2020, we are excited about what the future has in store and look forward to pushing the bar for choral singing in our region ever higher.
Sing with us
Qatar Concert Choir always welcomes new singers. If you're interested in joining us, please contact the Secretary at info@qatarconcertchoir.com to arrange an audition.
Book us
Qatar Concert Choir is also available for hire for receptions, social occasions and corporate events. It has a wide repertoire – from western classical to musicals, from opera to Middle Eastern and world music.