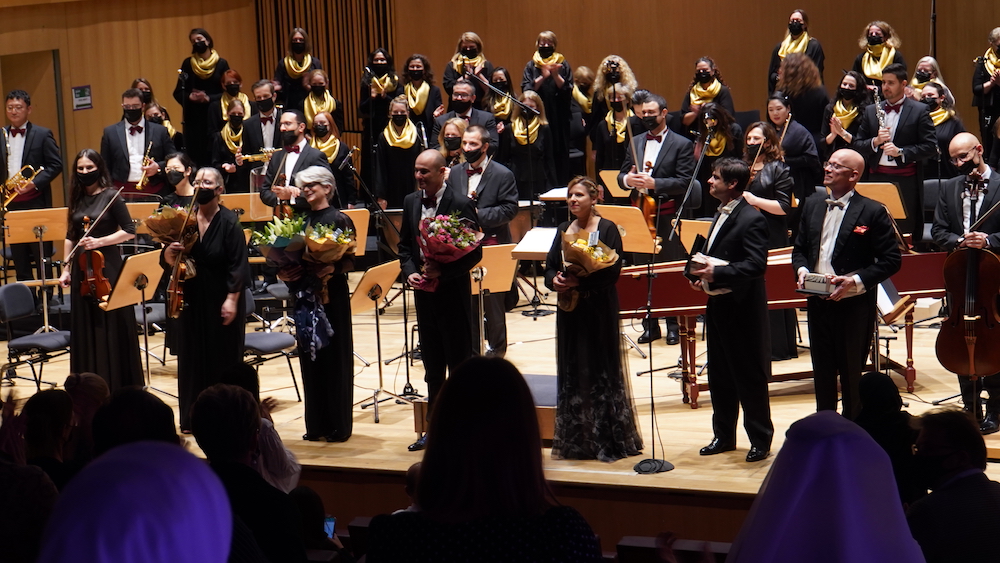 On 5 November, Qatar Concert Choir was delighted to hold its anniversary concert, celebrating a decade of bringing the best in choral music to Qatar.
It was, in fact, a triple celebration: our partners, Doha Baroque Ensemble (members of QPO), also marked their 10th birthday; and, for all the choristers, the performance was the first since the onset of the pandemic.
Permission to rehearse had brought its own challenges – physical distancing for 50 people requires a large rehearsal space. We are extremely grateful to Qatar Foundation, which came to the rescue, providing the theatre in the Qatar National Library.
Our committee also had to come to terms with the intricacies of managing both physical and online rehearsals simultaneously: finding cables, ensuring batteries are charged, placing microphones… It's certainly been a learning curve!
At the end of the day, however, it's all about the music, and our conductor, Giovanni Pasini, compiled a program comprising works by the greatest of Baroque composers, Bach and Handel, alongside Josef Rheinberger's Abendlied, an unaccompanied piece brought to soaring life by deputy conductor, Alena Pyne.
Handel's "Happy We" from his opera, Acis and Galatea, expressed exactly how the choristers felt, opening the concert on a joyous note and allowing us to hear soloists soprano, Anna Dieterich, and countertenor, Clint Van der Linde, stretch their vocal cords. The Doha Baroque Ensemble (members of QPO) followed with a glorious performance of Corelli's Concerto Grosso No 4 in D major, before QCC performed Bach's cantata, "Tönet, ihr Pauken! Erschallet, Trompeten!", joined by Anna, Clint, and bass Simon Robinson. It was a moment of nostalgia for a couple of longstanding choristers, as the Choir performed the same cantata at its very first concert.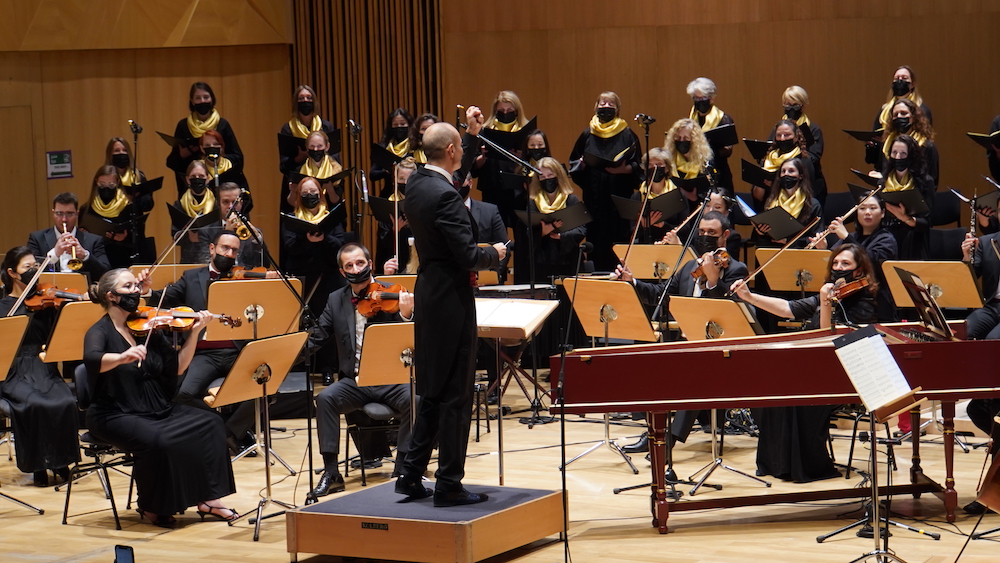 Short video messages of congratulation were interspersed between each segment of the concert, reflecting the happiness the QCC and DBE have brought to so many over the years. An almost impromptu "Happy Birthday" song, and an encore of Bach — with beautiful accompaniment from DBE's oboist — brought the concert to a close. Our audience loved it all and we were thrilled to receive a standing ovation.
Things aren't quite back to "normal" — we very much hope the photos of the choir, in elegant black and gold but sporting black masks, will soon become a quirky and distant memory — but the joy of rehearsing in person was palpable whenever we came together, leading to a concert where glorious music rode on wings of pure elation. Our enormous thanks to all who helped us to make it happen.