PROGRAM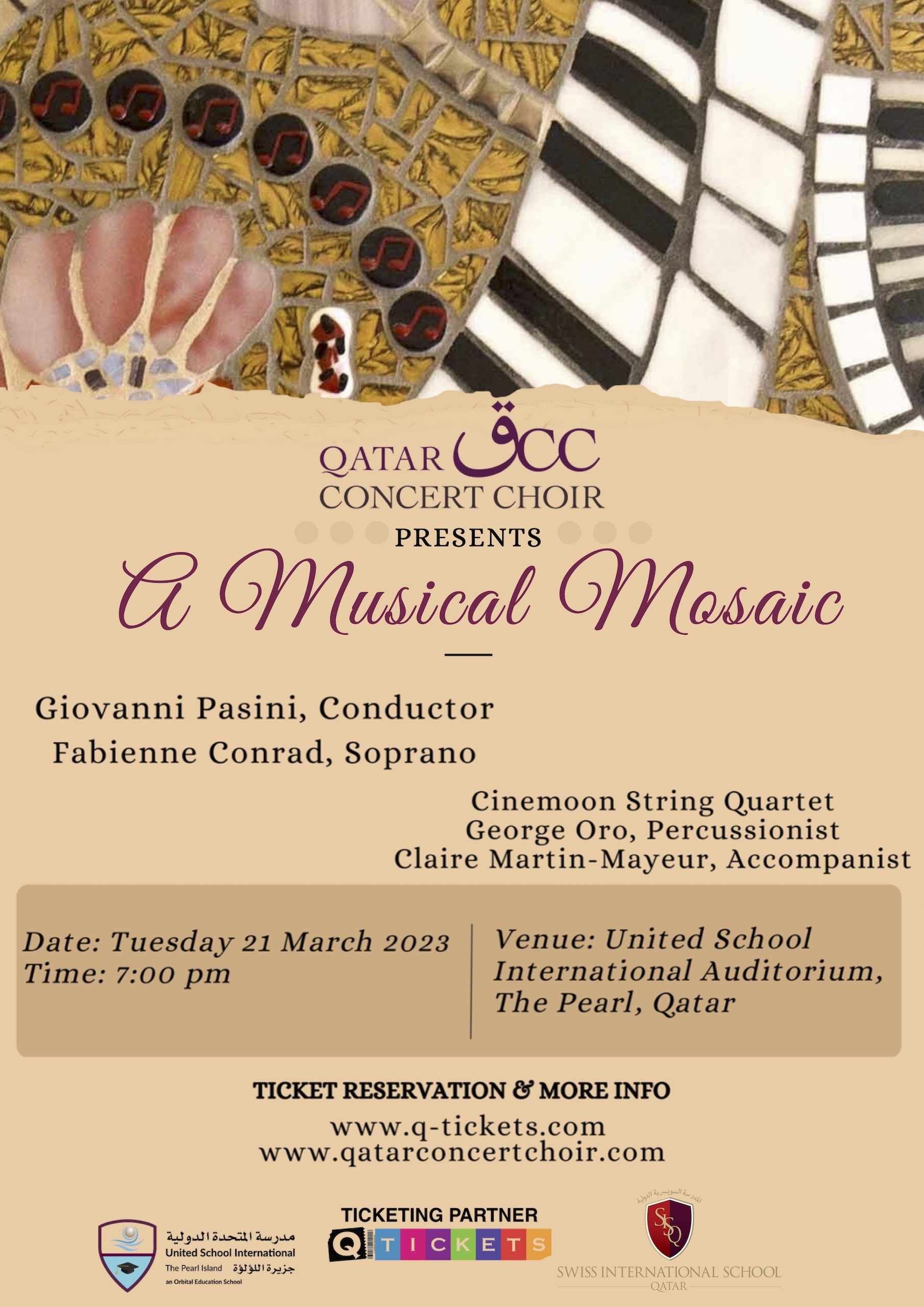 A Musical Mosaic
Tuesday 21 March 2023, 7 pm
United School International – The Pearl, Qatar
Auditorium
Giovanni Pasini, Conductor
Fabienne Conrad, Soprano
Cinemoon String Quartet
George Oro, Percussionist
Claire Martin-Mayeur, Accompanist
---
Program
Trad. Andalusian (1350AD): Lamma Bada Yatathanna
Trad. Iraqi: Fog Elna Khel
Trad. Arabic: Ah Ya Zein
Thomas Morley (1557-1602): Fyer, Fyer! ["Fire, Fire!"]
Johannes Brahms (1833-1897): Abendständchen ["Evening Song"], Op. 42, No.1
Sarah Quartel (1982): Songbird
Trad. Brazilian/arr. Carlos Alberto Pinto Fonseca (1933-2006): Muié Rendêra ["Lacemaker Woman"]
INTERMISSION
Georges Bizet (1838-1875): Habanera (from the opera "Carmen")
Jules Massenet (1842-1912): Souvenez-vous ["Remember"]
Vincenzo Bellini (1801-1835): Casta Diva ["Chaste Diva"] (from the opera "Norma")
Trad. Neapolitan (1800)/arr. Sergio Rendine (1954): Bellu Sciore ["Beautiful Flower"]
Alan Menken (1949)/arr. M. Engel: Aladdin medley
Queen/arr. P.Lawson: Bohemian Rhapsody
---

A Musical Mosaic
Like an ancient mosaic, music is formed of intricate patterns – a kaleidoscope of sound, settling, in each individual piece, into a form that may please, challenge, soothe or inspire. These forms have evolved through the centuries, as the merchants travelled the spice trails alongside poets and troubadours, and the cultural traditions of different regions and countries collided and grew into new forms of expression – and new ways of interpreting our world.
Music from the Arab world was a key contributor to the world's soundscape, with traditional melodies being adapted through the region and then into southern Europe and beyond. Our concert this evening includes three Arabic songs. The earliest of them – as far as we know – is Lamma Bada. The lyrics were written by a 14th century poet, Lisan ad-Din Ibn al-Khatib, some of whose words are inscribed on the walls of the Alhambra in Granada, Andalusia. Fog El Nakhel dates from 500 years later, originating in Iraq, where the melody has been attributed to a 19th-century Sufi poet. Later still, Ah Ya Zein is likely to have been composed by the Lebanese-American oud player and singer, Mohammed el-Bakkar, who was a Broadway star of the 1950s.
It is unknown who wrote the lyrics to Thomas Morley's Fire Fire, My Heart, but the theme resonates with those of the Arabian songs – the torment of love itself. Morley's madrigal style was heavily influenced by the music that travelled to England from Italy – and that, in turn, was influenced by the music of North Africa and the spice routes. And while the polyphonic a cappella style hit the heights of its popularity during Morley's lifetime, it has been emulated by composers through the centuries. The German composer, Johannes Brahms, used it to great effect in the late 19th century, in Abendständchen, while Songbird is a 21st-century piece by the contemporary Canadian composer, Sarah Quartel, allowing the upper voices to interweave and shine.
Carlos Fonseca's arrangement of the Brazilian folksong, Muié Rendêra, is particularly popular, but the song is decades older, at least. It is associated with Lampião, a famous bandit of the early 20th century, and the lyrics may have been written by him for his grandmother, a lacemaker. As with all popular music, versions have multiplied through the years, and there are now more than 120 versions, sung in seven languages in 14 countries.
Music, of course, recognises no borders, and Bizet, a French composer, wrote his opera Carmen, based on a novel by a compatriot but about a Spanish woman, the feisty title character. Habanera, an aria she sings in the first act, is based on Cuban rhythms, and surely owes more than a little to Arabic chromaticism. It has become one of the most popular of all arias.
Jules Massenet was an exact contemporary of Bizet. Famous for his operas, he also wrote individual songs, such as Souvenez-vous, which the female members of the QCC perform tonight with soloist Fabienne Conrad. She takes the lead, too, in Casta Diva, an aria from Vincenzo Bellini's opera, Norma, in which the title character makes a plea for peace by the light of the moon. It's an aria that ranks among the most beautiful of all, but Bellini never knew its fame. He died at the age of 34. Who knows what further great works he would have given the world, had he lived longer?
Sergio Rendine, on the other hand, knew his songs were popular, at least with the local community of Naples, in whose dialect the lyrics are written. Bellu Sciore has been recorded by a number of well-known artists, and although it is a 20th-century work, it builds on centuries of folk music for its very traditional soundscape.
The operatic composers of the 19th century opened the path to the musical writers of the 20th, and Alan Menken is one of the most successful of all. His multi-award-winning score for Aladdin is one of best-known of all, with its catchy songs breathing life into an ancient Arabic folktale.
The final piece in our mosaic this evening draws on many musical traditions, from polyphony to opera to pop. It was written by one of the most flamboyant performers of the 20th century, born in Tanzania to Indian-Parsi parents, who practised an ancient Persian faith. The song is a mosaic in itself, and testament to the power of imagination and flare in combination with tremendous musical talent. Like many of the composers featured in our program this evening, Freddie Mercury died tragically young, but his contribution to our musical world will never be forgotten.
---
Qatar Concert Choir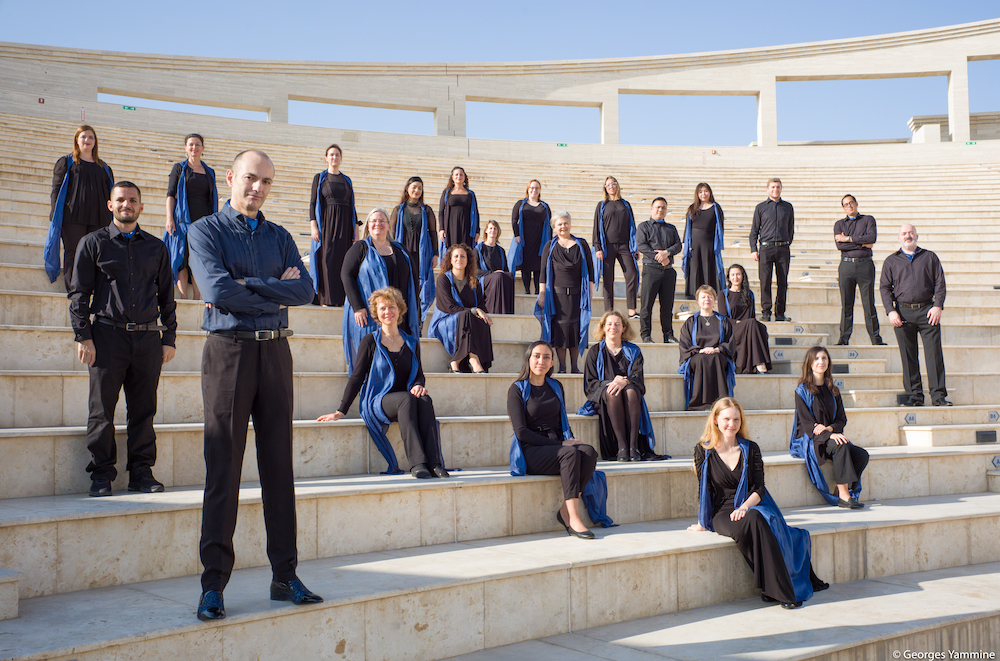 Starting as an ad hoc ensemble of a dozen or so baroque choral enthusiasts in 2011, today the Qatar Concert Choir numbers more than 50 rigorously auditioned singers. Since 2014, the choir has thrived under the leadership of conductor Giovanni Pasini, and much of its success can be credited to his efforts and those of its patron, world-renowned soprano Felicitas Fuchs. Today, the QCC is Qatar's leading adult choral ensemble, maintaining a busy performance schedule.
The QCC performs a diverse range of music and has become a regular partner of the QPO. In recent years, works by composers such as Bach, Handel, Vivaldi, Mozart, Beethoven, Holst and Whitacre have featured in its programs. The choir's flexible repertoire ranges from baroque to pop, musicals and videogame soundtracks, and from opera to Arabic songs. It has collaborated with international artists including Dana Al Fardan, Felicitas Fuchs, Gianluigi Gelmetti, Stefanie Iranyi and Clint van der Linde.
With the release of the single "Vivaldi's Winter in Qatar", available on YouTube, Spotify and Apple Music, the QCC produced the first ever classical choral music video to be entirely recorded, filmed, and edited in the Gulf region. Regularly performing traditional and contemporary music from the Arab world, the QCC seeks to link this region's singing culture with the broader international choral community. It is a founding member of both the Arab Choral Network and Sing Qatar, two not-for-profit institutions with a mandate to foster and promote choral singing throughout the region.
---
Giovanni Pasini, Conductor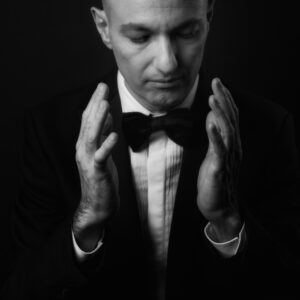 Giovanni Pasini arrived in Qatar in 2014, having been appointed Principal Viola of the Qatar Philharmonic Orchestra (QPO). Since then, he has consolidated a parallel conducting career with the support of QPO management and his colleagues.
Currently the conductor of the Qatar Concert Choir, Qatar Youth Orchestra, Doha Baroque Ensemble and Cinemoon Ensemble (the latter two members of QPO), he regularly leads programs focused on film music, opera and musicals, and pedagogical projects.
The reputation gained by the QCC under Giovanni's direction renders it the obvious choice to partner with QPO for choral works performed in Doha, and in 2018, the Choir travelled outside Qatar for the first time, to perform Beethoven's Symphony No. 9 in Malaga, Spain. In March 2020, prepared by Giovanni, it sang Fauré's Pavane and Ravel's Daphnis and Chloé under the prestigious direction of Gianluigi Gelmetti. In 2021, the QCC celebrated 10 years of activity in Qatar with a concert with the QPO, and it was chosen to join the orchestra at the prestigious FIFA gala concert, prior to the FIFA World Cup 2022. 
Giovanni has directed many recordings with the QCC, collaborating with local and visiting artists and developing a special partnership with renowned Qatari composer and cultural ambassador, Dana Al Fardan. A new Arabic album is planned for release this year.
A former member of Australia's International Conductor Development Program, Giovanni received his Master's in Conducting at the Gurska Foundation in Madrid under George Pehlivanian and has conducted orchestras including the Tasmanian Symphony Orchestra, Auckland Philharmonia, Sydney Sinfonia, Bohuslav Martinů Philharmonic and the Cairo Symphony Orchestra.
---
Fabienne Conrad, Soprano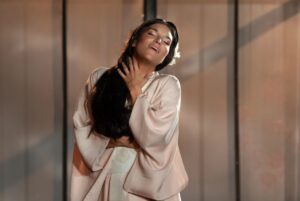 Fabienne Conrad made her debut as Violetta in La traviata at the Rouen opera House in 2012. Her many roles have included the Countess (Le nozze di Figaro), Juliet (Romeo and Juliet), Mimi (La bohème), Marguerite (Faust), Micaëla (Carmen) and Donna Anna (Don Giovanni). She is renowned for her acting skills, musicality and technique and has been successful across Europe in operas, oratorios and concert performances of major works.
Fabienne was selected to perform at international commemoration ceremonies for the Great War, in the presence of Heads of States from all over the world, and in several Galas with the Orchestra of the "Garde Républicaine" (the French Presidency Official Orchestra). Particularly appreciated for her performances of Verdi's Requiem, which she has interpreted a number of times in France and Germany, her vast oratorio repertoire, includes Mozart, Pergolesi, Leo, Handel, Rossini, Brahms, Dvořák, Poulenc, Massenet, Fauré, Franck and many contemporary works.
Initially a graduate of Paris' prestigious Sciences Po (Institute of Political Studies) and winner of the first prize in Music and Piano at the Conservatoire, Fabienne was discovered on stage at Sciences Po, where she played Maria in West Side Story, with no previous singing experience. She then turned to opera singing, and after winning the Madrid competition for female opera singers, sang her first role in Poulenc's Dialogue des Carmélites at the Madrid Royal Opera House (Teatro Real). She is interested in the linking opera and cinema, and has created a video clip of "Piangero" from Handel's Giulio Cesare (a Parfum de Films production).
---
CineMoon Ensemble, a member of Qatar Philharmonic Orchestra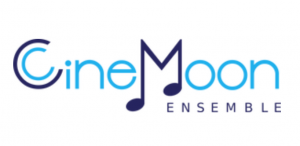 Merve Kenet Bulun, Artistic Director & Producer
Lorena Manescu, Concertmaster
Giovanni Pasini, Conductor
CineMoon Ensemble members represent some of the finest musicians of the Qatar Philharmonic Orchestra. CineMoon performs in various configurations, from small chamber groups to orchestras of more than 40 musicians.
Since its acclaimed debut in February 2014 at the Museum of Islamic Art in Doha, CineMoon Ensemble has enjoyed increasing popularity and great success. Its members hail from many several different countries, echoing the multicultural nature of its home city.
The group performs music of all genres – film music, ethnic, classical, and more – uniting audiences of diverse cultural backgrounds and of all generations. CineMoon Ensemble is engaged in concerts, private events, recordings and is open to further invitations.
Cinemoon String Quartet:
Lorena Manescu, Fulvio Furlanut – Violins
Merve Kenet Bulun – Viola
Harald Georgi – Cello
---
George Oro, Percussionist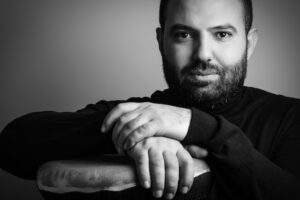 George Oro grew up in Qamishli, Syria. He has been passionate about percussion throughout his life and started formally learning percussion at a very young age. He studied music at the Higher Institute of Music in Damascus, specializing in traditional and western percussion, earning a Master's degree in Music Performance from the Royal College of Music in Stockholm, Sweden. He trained under the renowned Russian professor Alexey Artimiv, Turkish masters Misirli Ahmet and Levent Yildirim, and French musician Jean Luke.
George works with various extended technique methods on different traditional and western percussion instruments, including the split-finger technique on the Arab tabla (darbuka/doholla). He was a principal percussion teacher in Qatar Music Academy for four years and has performed all over the world as a soloist and percussionist. Among many appearances, he played at Jazz at Lincoln Centre Doha with Wynton Marsalis, as soloist with Qatar Philharmonic Orchestra led by renowned conductors Lorin Maazel and Han-Na Chang, and participated in the first Arabian music concert of the West-Eastern Divan Orchestra in Teatro Colon, Argentina. George works with different groups and projects such as MAqam ensemble, Norrköping Symphony Orchestra, Broukar band, Mesopotamian Fusion and SEPO Orchestra in addition to developing his own musical project "Transcending the Darbuka".
---
Claire Martin-Mayeur, Accompanist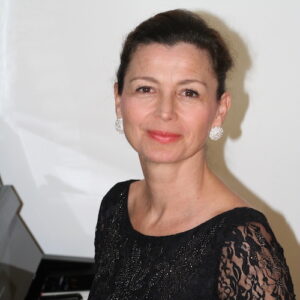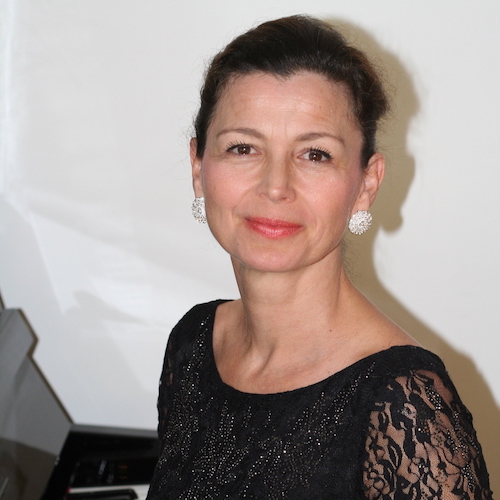 Claire Martin-Mayeur is French and has lived in Doha since 2004. She graduated in the Ecole Nationale de Musique de Paris and the Centre de Recherche et d'Etudes pianistiques. She is a pianist and mainly an accompanist in various fields: with vocalists and instrumentalists, ballet dancers, music exams and competitions and for plays and performances of all kinds. She is a piano teacher too, and sometimes a vocal coach. She has a strong interest in everything related to languages (including music!) and how to look for autonomy along with physical and mental awareness and wellness. Her motto as an educator could be: "Teaching is feeding minds, comforting hearts and instilling dreams with perseverance and joy".
---
Qatar Concert Choir Singers
Soprano
Hiba Ben Aoun
Nur Pelin Binay
Ana Catarina Braga
Rachael Chandler
Nirvana Hariri
Aga Krzyżanowska
Marie-Pierre Lissoir
Claire Martin-Mayeur
Sarah Raouf
Jo-Mari Reynolds
Aleksandra Tabakova
Alto
Sara Gold Wilson
Adele Ifan
Irene Mineoi Amrani
Marie Madeleine Reis
Victoria Salazar
Rawan Shayboub Mahfoud
Irene Theodoropoulou
Ada Vahtrik
Tenor
Diaa Fawal
Robert Ford
Victor Perez
Jawdat Samawi
Yuliya Samotiy
Megan Schildgen
Viktor Strand
Beatrice van der Haert
Jon Wilson
Bass
Anwar Al Nimri
Jeroen Brons
Ahmed El Helou
Alessio Mastrodonato
Ashley Robinson
---
Supported by: