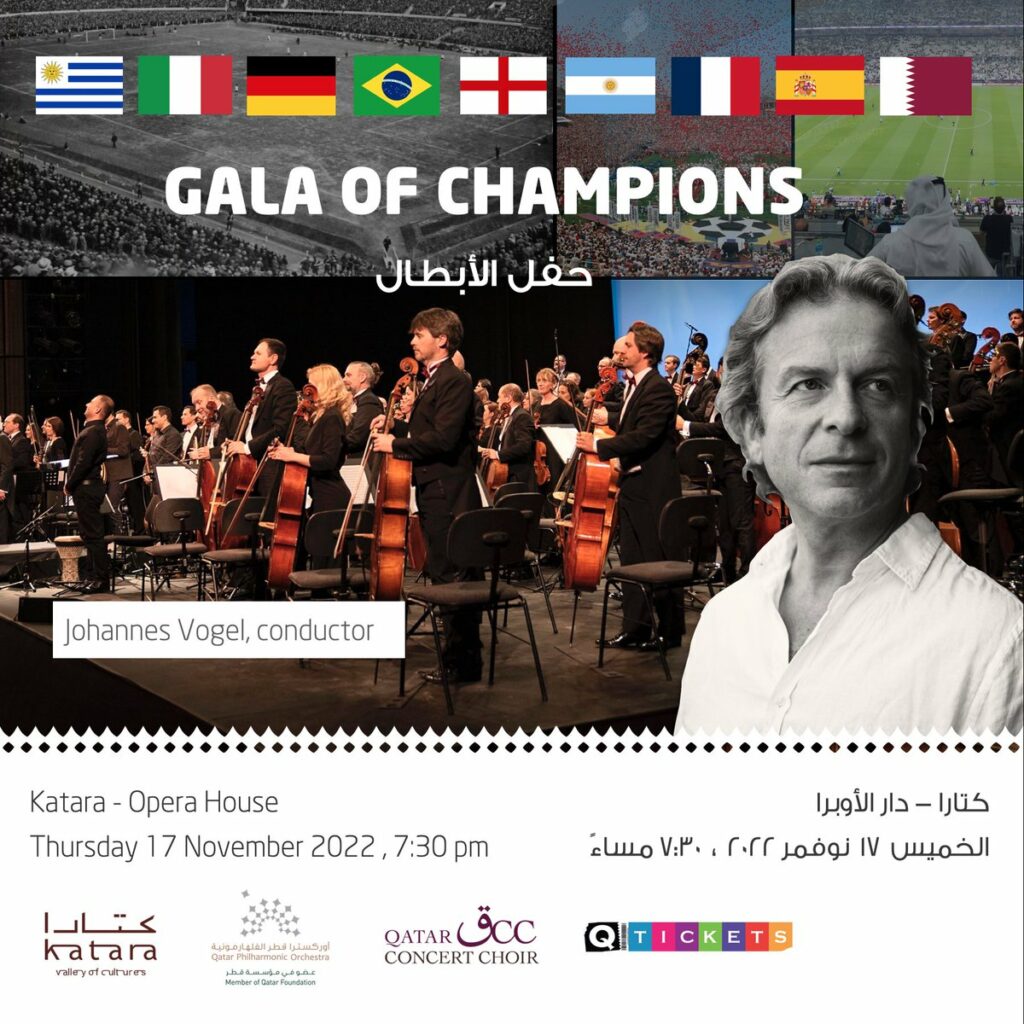 Gala of the Champions
17 November 2022 – 7:30 pm
Katara Opera House
The Qatar Philharmonic and Katara in collaboration with the Embassies of Brazil, Germany, Italy, Argentina, France, Uruguay, Britain, and Spain presented Gala of Champions, an event that features classical music from each nation of World Cup champions.
The concert included compositions from Oscar Lorenzo Fernández, Manuel de Falla, Ludwig Van Beethoven, Gioacchino Rossini, Edward Elgar and many more.
The Qatar Concert Choir and the Qatar Philharmonic performed under the baton of internationally sought-after session conductor Johannes Vogel for this festive evening.
PERFORMERS:
Johannes Vogel, conductor
Qatar Concert Choir
Giovanni Pasini, chorus master
PROGRAMME:
Oscar Lorenzo Fernandez:
Batuque
Heitor Villa Lobos:
Bachiana Brasileira No. 4 (1. Introduction)
Bachiana Brasileira No. 2 (4. The Little Train of the Countryman)
Clarice Assad:
Dança Brasileira from Impressions for Strings
Ludwig Van Beethoven:
Symphony No. 7 in A major, Op.92
Richard Wagner:
Lohengrin Intermezzo Act 03
Gioacchino Rossini:
Scala Di Seta (The Silken Staircase)
Pietro Mascagni:
Intermezzo from "Cavalleria Rusticana"
Giacomo Puccini:
Humming Chorus from "Madame Butterfly" with Choir
Intermission
Gabriel Fauré:
Pavane with Choir
Gerardo Matos Rodriguez:
La Cumparsita
Astor Piazzolla:
Invierno Porteño
Manuel De Falla:
Ballet Medley (from El Sombrero de tres Picos & El Amor Brujo)
Ritual Fire Dance from 'El Amor Brujo'
Edward Elgar:
Pomp and Circumstances March No. 1 with choir