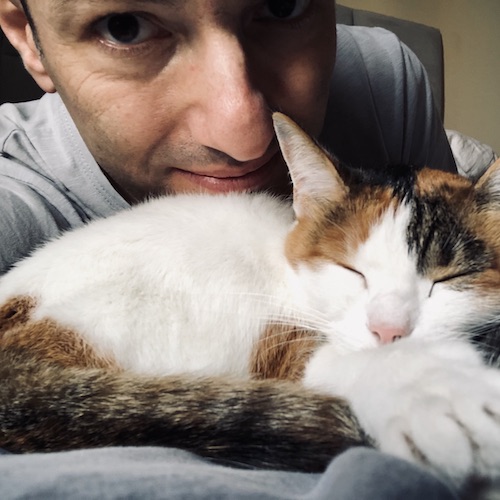 Name: Giovanni Pasini
Voice: Bass, Conductor
Country: Italy
When you joined QCC: September 2014
Date of birth: 3 August 1973
Instrument(s) you can play: Viola, Violin
Singing/Music background: Diploma & Master in Viola (CNSMD de Lyon – Hogeschool Maastricht) Master in Conducting (Katarina Gurska Foundation, Madrid)
Profession/Employment/Activity: Principal Viola – Qatar Philharmonic Orchestra (QF) / Conductor of the Qatar Youth Orchestra and Viola Professor at the Qatar Music Academy (QF) / Chairman WSCM Qatar 2023
Hobbies: Anything related with the sea: Sailing, Diving and Free-Diving, Swimming
A few more lines about you: I grew up playing Lego while my father diligently spent hours practicing Bach music on the organ, therefore I developed a deep love for Bach's music and used to whistle fugues' themes instead of children' songs in my early days in primary school! While in college, I had to painfully refuse many invitations to go play football with my peers, in order to practice viola after school hours. Nevertheless, I played a lot and managed to fracture my arm and wrist 2 times! To complete the nerd profile, I played Dungeons and Dragons almost every weekend and of course got hooked to Commodore 64 and Amiga since the early days of video games.
My nerd past was quickly forgotten when my Viola started to make me travel the World. Getting into the European Youth Orchestra was my Champions League, the start of everything. After winning 7 Principal Viola jobs in orchestras around the world and living in every continent, I discovered I had a very peculiar disease: I could not stay in the same place more than 4 years, no matter how beautiful. I am now in Qatar for more than 6 years, it looks like this tiny country played a trick on me…
Conducting this amazing choir contributed immensely to my growth as a person and as a musician, but not to the growth of my hair, unfortunately.
I still haven't seen much of the country as I was either busy driving or rehearsing… The only time I shouted to the choir was to say: « Sephiroth! » … May the One Winged Angel forgive me…
Oh, I was supposed to write about music! Ok I cannot live without Bach, I am pretty sure I listened to all the cantatas at least twice not to mention all the organ music and orchestral stuff. The Brandenburg Concertos are a monument to human genius. But I can't really choose who to bring to a deserted island… Ravel's string quartet, La Valse and Tombeau de Couperin… Debussy Arabesque, Bartok Concerto for Orchestra, any Puccini, Verdi string quartet, Beethoven op.59, Mozart's Don Giovanni, Brahms quintets and sextets, Richard Strauss Metamorphosen and Rosenkavalier, Schumann Marchenbilder… tomorrow I might write a different list… music is so emotional.
Outside of the classics, I am utterly devoted to the Queen and Michael Jackson, and carry on a crush on Duran Duran I developed in secondary school. Doctors said it's too deep, there is nothing to do… I am crazy about Jazz, and Brasilian's 13th and 15th chords in bossanova. I really listen to anything except Heavy Metal, Andre Rieu and Yanni (sorry about that I have my limits!).