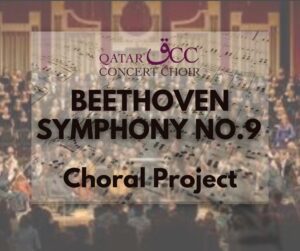 Something big – really BIG – is brewing in Doha…
Want to be part of it?
Join us as we partner with the Qatar Philharmonic Orchestra to raise the roof of the QNCC Concert Hall, as part of the biggest choir Doha has ever seen, for the mighty
BEETHOVEN SYMPHONY NO.9
Qatar Concert Choir invites singers to join us.
There's no need to be an expert, but you must be able to sing in tune. We will provide practice files you can sing along to as you learn your part, and there will be sectional rehearsals where you learn in the company of others.
So, here's what you need to do:
Love singing!
Check the requirements below and register
We can't wait to sing with you!
---
Requirements:
Attend the weekly rehearsals on Mondays, 7:00 – 9:30 pm at the Swiss International School Qatar.
Attend the workshops and extra orchestral rehearsals in the week leading up to the concert.
Be available for the concert on Wednesday 28 and/or Thursday 29 February 2024.
Be prepared to practise at home.
---
To register:
Registrations will close soon.
Please register on this link, and we will be in touch shortly to schedule an audition.
If you require further information, please do not hesitate to contact our secretary, at info@qatarconcertchoir.com.
---
Timeline:
– Concert:
Wednesday 28 or Thursday 29 February 2024, or both.
– Auditions:
Auditions are closing soon. A time will be agreed upon signing in.
– Rehearsal dates:
Monday 6, 13, 20, 27 November
Monday 4, 11 December
(Break from 18 Dec to 7 Jan 2024)
Monday 8, 15, 22, 29 January
Monday 5, 12, 19 February
– Intensive workshops:
Friday 23 February, 10-4 pm (times TBC)
Saturday 24 Feb, 2-5 pm (times TBC)
– Orchestral Rehearsals:
From Monday 26 February, evening rehearsals will be every day, 7-9pm
---
Scores:
QCC will have the scores ready for sale, you can buy your own copy for 50 QR (or bring your own if you have it already). Scores will be autographed by the conductor and will stay with you to treasure this moment.
Alternatively you may choose to borrow a score and return it with all markings erased. In this case we ask a 50 QR deposit, which will be reimbursed after returning your score.